Tyrants, monarchs, and governments may rule the world, but the gaming world only answers fierce clans. Meet Tfue, a Twitch streamer and YouTuber who is part of the legendary FaZe Clan. The gaming community recognizes him for his dominance in Epic Games' Fortnite Battle Royale.
However, we know him as a celebrity worthy of our attention. That said, let's take a peek at Tfue's net worth, age, real name, and where he lives.
Who is Tfue?
Tfue is a common household name, especially for those who love eSports. He rose to the scene back in 2014 while playing Call of Duty and Destiny. However, his 'military gaming career' had its roots in Bungie's Halo game.
Consequently, as soon as Battle Royale games like H1Z1 and PlayerUnknown's BattleGrounds became the in thing, so did his career shift. Initially, his titular role landed him a professional career with Denial Esports.
However, when his talents picked up on the launch of Fortnite, the legendary FaZe clan signed him up as one of theirs. Tfue's skills won four tournaments, including two Fall Skirmishes Series that put his name on the map.
His YouTube and Twitch Channel shot up with over a million subscribers and followers in under a month.
Moreover, the publicity the clan gave him was more than enough to put his career on the map. As a result, the Twitch streamer now plays with legends like Dennis Cloak Lepore and ClipZ. So who is the guy controlling all the avatars?
Tfue's real name
The legendary Twitch gamer goes by his real name, Turner Ellis Tenney. It just clicked on his mind and came to be. Now we'd love to tell the epic tale of how he came up with the moniker, but sadly, there is none.
Tfue's Net Worth in 2023: $8 Million
His financial progression built up through Google's AdSense on his YouTube channel, which currently sits at 11.9 million subscribers. On the other hand, his Twitch count has up to 6.3 million followers.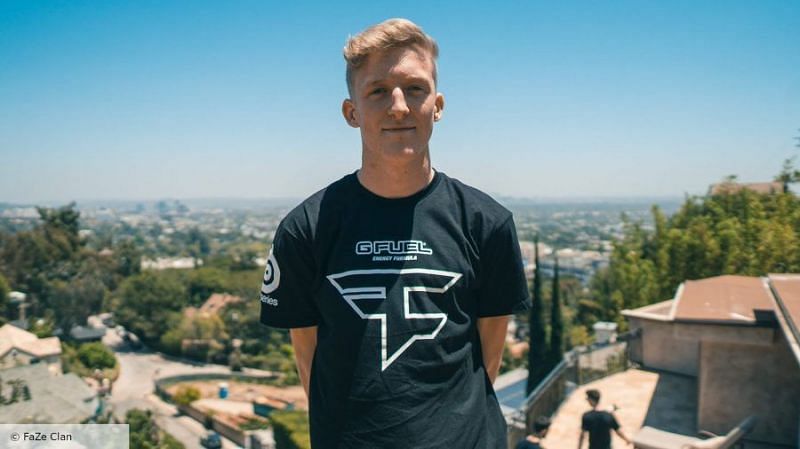 Also, the Fortnite Champ got his money's worth from eSports platforms like Rogue, Denial Esports, and FaZe clan. However, he is currently facing legal implications from the latter, but more on that later.
Nonetheless, the group has availed several sponsorship deals to Tfue, which boosts Youtuber Tfue's net worth.
Did you also know that the tournaments also have price money attached? The Fortnite Pro has severely banked cheques from Epic Games from his tournament wins.
Some of them are the equivalent of winning a lottery. Case in point, he walked away with $515,000 from TwitchCon and donated $5,000 to St. Jude's Children's Research Hospital.
Online leaks and have any other noteworthy information renders have Tfue's current net worth estimations at $8 million.
Where does Tfue live?
The Fortnite Pro, aside from his time in front of the screen, also has a social life. We know that he does not live in Los Angeles, California, from the information streams surrounding his life.
For starters, the latest is his girlfriend's woes that he doesn't visit her quite as often as she does. Corinna Kopf, his blonde-haired beauty, took to Twitch and talked about how he hates LA.
He moved out of the Clout House in LA sometime back and secured a new apartment. The details of his current location, however, remain masked. Rumour has it that he went back to Florida, but there is no substantial evidence to back up these claims.
Parents, siblings.
Tenney's family doesn't make it to his streams as often as you'd want them to unless something significant is going down. We only met his dad once through a YouTube video when he won a $10-million-dollar tournament. On the other hand, his mother is a complete ghost.
The Fortnite Champ also has three siblings; Jack, Pierce, and Alexandra. Before he got his channel up and running, Tfue debuted in his older brother's space in 2010 skimboarding. Jack's channel's handle is JOOGSQUAD PPJT.
Why was Tfue banned?
Going pro was the best thing that ever happened to Tfue. However, he got banned from Twitch for hauling racial insults to another Twitch User in May 2018 after he called him 'coon.'
His Epic Games account got axed two months later when they noticed he was selling accounts with rare skins. This was a move in violation of their Terms and Policies that saw his prohibition.
Additionally, he is currently in a legal battle with FaZe over allegations of infringing on his tournament wins. Moreover, he also cries foul on incitement to take up underage drinking and gambling and threatens to start his very own eSports gaming clan.
Tfue Wiki-bio.
| | |
| --- | --- |
| Full name | Turner Ellis Tenney |
| Age | 25 years old |
| Date of Birth | January 2nd, 1998 |
| Place of Birth | Indian Rocks Beach, Florida |
| Profession | Twitch Streamer, YouTuber |
| Net worth | $8 Million |
| Girlfriend | Katie Saliens |
| Kids | None |
| Height | 6 feet 1 inch |
| Weight | Undisclosed |
| Zodiac Sign | Capricorn |
Turner Ellis Tenney came into the world on January 2nd, 1998, in Indian Rocks Beach in Florida. He is currently 25 years old, but sadly, there isn't much to report on his early life.
However, we can state that the YouTuber who took up gaming has been in his blood ever since twelve. As a result, he only got through middle school and dropped out of high school to take it as his daytime job.