Same gender relationship is the in thing nowadays. With more countries legalizing it, it is not as hard to come out as gay as it used to be sometime back. However, even with the legalization, some people prefer to keep their sexuality under wraps for fear of being stigmatized. Nevertheless, there are a few courageous people who are not ashamed of their sexuality as gays. They come out and declare their relationships publicly. One such case is Shane Dawson.
For those who are not familiar with this name, Shane Dawson Is a 30-year-old American writer, actor, producer, and a You Tuber. Shane used to date women until he met Ryland Adams, his new lover. They started dating in early 2016 but only came out publicly on March 19, 2019, when they announced their engagement during the third anniversary of their first date.
It seems that Shane Dawson had been ashamed of his sexuality and hidden it for long. It is Ryland who helped him and gave him the courage to come out publicly. He admitted to this by saying that Ryland had helped him reveal a big part of him that he had been hiding for long. No wonder Shane calls Rayland "my sweetheart boyfriend."
Shane Dawson And Rayland Adams Relationship.
Being a celebrity and as handsome as Shane, he must have many female admirers dying to have a piece of him. Sorry ladies, Shane Dawson, is taken. The 30-year-old you tuber is in a relationship with a fellow you tuber Ryland Adams. The two lovebirds started dating in March 2016. It was Shane who made their relationship public through a video he posted on his youtube channel saying
"I feel like I have been hiding such a huge part of my life recently and I don't want to do that anymore. So here it goes. This is Ryland. He is sweet, caring, and he makes me so incredibly happy. He's also my boyfriend. He's been a huge part of my life and I'm so grateful that I met him. Don't worry, I don't want to exploit this or do 'boyfriend tags' or any of that dumb sh*t"
The two young and handsome you tubers proved the seriousness of their relationship by getting engaged. The engagement happened on the 19 March 2019 while they were celebrating the third anniversary of their first date.
Soon after their engagement, the two darlings moved in together in their Los Angeles home. Shane seems to be so into his new lover; he is always heard referring to him as his sweetheart boyfriend. The two are still posting photos of each other on their social media handles. Now that their relationship is already official and they seem to be madly in love, we hope that they will be getting married soon.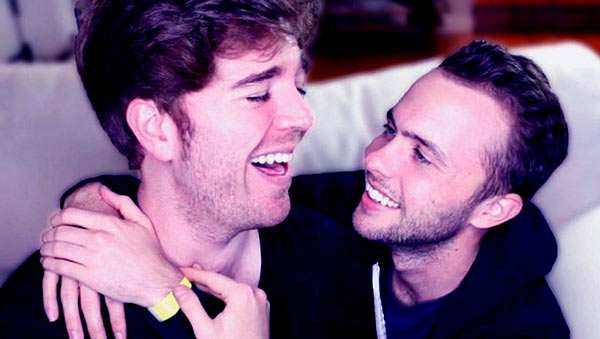 Shane Dawson's Previous Relationship And Dating History.
Youtuber Shane Dawson is not only gay, but he is also bisexual. This can be proved by the fact that he has dated both men and women before. Shane proved the fact that he is bisexual in one of his youtube videos in 2015 when he confirmed breaking up with Lisa Schwartz, his then-girlfriend.
Let's take a look at the social media star, Shane Dawson's previous relationships, starting with his current one.
As we all know, Shane is currently dating Rayland Adams. They began their relationship in 2016 and got engaged on 19 March 2019 during the third anniversary of their first date. Shortly after their engagement, the two lovers moved in together in their Los Angeles home where they are currently living. Their relationship seems serious; it can lead to marriage.
Shane Dawson had a relationship with a fellow social media star Garret Watts in January 2017. They frequently collaborated in videos that they posted on youtube channels.  Their relationship did not last long; it ended shortly after it began
The beautiful 35 years old actress Lisa Schwartz dated Shane Dawson from December 2011 to July 2015. This has been Shane's longest relationship so far. Their breakup shocked many of their fans. Having dated for over three years and being engaged, many thought that they would have ended up in marriage.
Even though their breakup happened the same time, Shane came out as bisexual that was not the reason for the breakup. According to Dawson, their breakup was because Lisa wanted to settle down and have kids while he was not ready for that.
Shane Dawson and the pretty 32-year-old fellow you tuber Nadine Sykora were in a relationship from December 2010 to Novembert2011. Not only is Nadine a YouTuber, but she is also a Canadian travel Vlogger. She started creating videos in 2016 and posting on her youtube channel called; "Hey Nadine" Nadine also loves traveling she managed to visit 45 countries in four years.