Lilly Singh is a Canadian YouTuber. The star gained popularity from YouTube through her channel, Superwoman, launched in 2010.
Later on, she renamed it Lilly Singh. In 2011, she started another channel where she posted vlogs documenting her daily life activities.
Read more to find the secret of Lilly Singh's net worth of $20 million and learn about her love life and family.
Lilly Singh's Net Worth is $20 Million.
With a total YouTube subscribership of over 16 million, television shows, and movie roles, to name but a few, Lilly Singh is definitely laughing all the way to the bank.
Her laugh must be one that is loud and boisterous because she has an estimated net worth of $20 million. Lilly deserves every penny she has made, thanks to her dedication and great work.
Is Lilly Singh Gay?
Lilly Singh does not conform to the conventional binary sexuality definition of either being straight or gay but rather has melded together.
In simpler terms, Lilly is bisexual. She came out about her sexuality through social media in February of 2019 on Twitter. She revealed that coming out was one of the scariest things she had ever done in her life.
Luckily her fans and followers encouraged her with their heartfelt messages. Of course, there were a few people that trolled her online, but thankfully, they were just the minority. She also revealed that she didn't massively lose fans and followers after coming out of the closet.
Singh is proud of her sexuality and takes every chance to flaunt her preferences, in a good way, to anyone willing to give her an audience.
On January 22nd, 2020, she talked about her coming out in her NBC show, A Little Late with Lilly Singh. She revealed that part of the reason she is so public about her sexuality is largely in part because she has a platform to address and demystify non-binary relationships.
Who is Lilly Singh Boyfriend? Or Is she married to someone?
Lilly Singh has been linked to a fellow YouTuber, Yousef Erakat, who goes by the stage name FouseyTube. Yousef was rumoured to be Lilly's boyfriend for a long time, and it didn't help that the duo collaborated on19 several videos on YouTube.
Lilly never directly confirmed if Yousef was her boyfriend. The news shattered the fans' hopes for the co-stars. Yousef then disappeared from YouTube to take a break due to depression, and it seems that wasn't the only thing he was taking a break from. He stopped seeing Lilly.
Nowadays, Lilly is more public and vocal about her love life after coming out as a bisexual woman in 2019. I guess we'll have to wait to see who the lucky girl and boy are.
 Lilly Sing's Sister Tina Singh is also a Youtuber.
Lilly Singh has a sister named Tina Singh, as aforementioned. Tina is a YouTuber, just like her sister, Lilly. Tina was born on August 10, 1982, in Toronto, Canada. She will be 41 years old in 2023.
Lilly Sigh's sister Tina began her YouTube channel in January 2016 and has gotten 81,500 subscribers. Tina is a mom and Boss of 3. Her channel documents her life as a mom of three boys.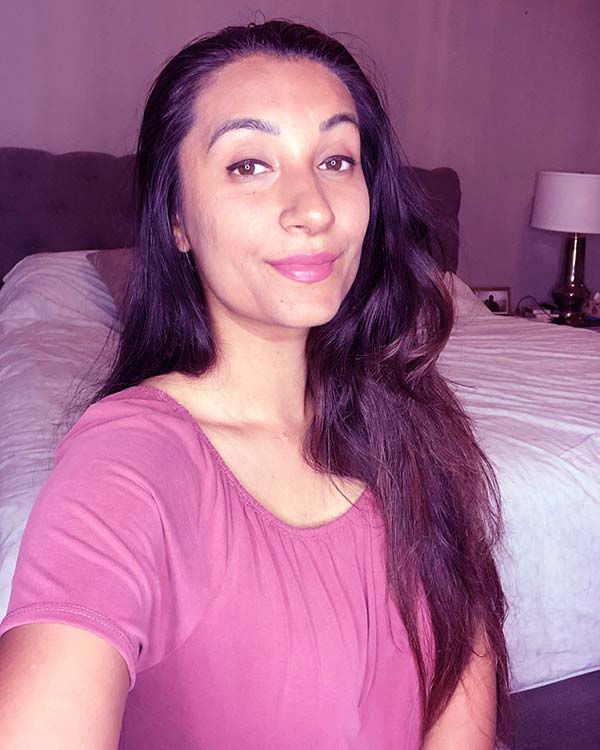 Caption: Lilly Singh sister Tina Singh
 Lilly Singh Parents.
Lilly Singh's parents' names are Sukhwinder Singh and Malwinder Kaur. They hail from Punjab, India, but later immigrated to Canada, where they raised their two daughters, Lilly and Tina.
Height, measurements.
Lilly is 5 feet, 5 inches tall. She weighs a healthy 55 kilograms or 121 lbs. For her height, Lilly has a healthy BMI.
Who is Lilly Singh?
Lilly Singh is a Canadian-born and bred media personality. She was born on September 26, 1988 in Scarborough, Ontario, Canada.
Lilly is a well-educated individual. She graduated from university with a degree in psychology in 2010. Her Alma maters are York University based in Toronto, Canada, Mary Shadd Public School, and the Lester B. Pearson Collegiate Institute.
Lilly Singh's Succes in Youtube.
In the same year, Lilly started her YouTube channel, which she named Superwoman. She arrived at the name because she had always felt that she was capable of doing anything since she was young. The channel quickly gained subscribers, and Lilly was catapulted to stardom.
She piggybacked on her successful channel to start her other channel, which documented her normal day-to-day activities. Her new career as a YouTuber paved the way for other opportunities, such as acting. She was featured in a movie named Thank You and Speedy Singhs back in 2011.
From Youtube to TV Shows: Lilly's Career.l
She then had the opportunity to make music where she worked on songs like Mauj Ki, Hipshaker, and #LEH, which was her song that she released in 2014. Lilly got the opportunity to be featured in television in an HBO series, where she plays a blogger named Raven.
It seems that this is Lilly's decade because, in September of 2019, she got a chance to host her show on NBC named A Little Late with Lilly Singh.
The show met many positive reviews, which resulted in NBC renewing it for a second season in May 2020. Lilly has also conquered the social media world apart from YouTube and television. She recently joined the Chinese-created video-sharing app Tik Tok, and she is quickly gaining followers.
Full name
Lilly Singh
Age
34 years
Date of Birth

September 26th

, 1988
Place of Birth
Scarborough, Ontario, Canada
Profession
YouTuber, television host, actress, musician, comedian
Net worth
$20 Million
Partner
unknown
Kids
0
Nationality
Canadian
Ethnicity
Indian
Zodiac Sign
Libra
Parents
Sukhwinder Singh and Malwinder Kaur